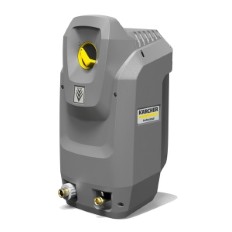 Karcher HD 7/12-4 M ST
The stand-alone pump unit out of the modular new HD Middle class is the perfect solution for integrated high-pressure pumps e.g. stationary machine and production progress. A reliable high-pressure pump which is protected by a robust plastic chassis and not more. The machine is intended for stationary use and can be mounted and operated both horizontally and vertically. A 3-point support on the back enables vertical or horizontal mounting. Access to the high-pressure pump and the electronic components is easy and therefore service-friendly – the pump itself is effectively protected from dirt in reclaim water by means of a large water fine filter.
Flow rate (l/h) 700
Operating pressure (bar) 120
Max. pressure (bar) 180
Water feed temperature (°C) 60
enquiries@pressureclean.co.uk for more details and price
Karcher HD 7/12-4 M Plus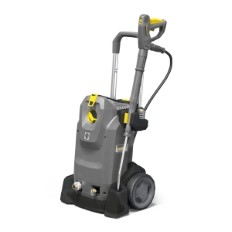 Powerful, versatile and robust machines, ideal for tough cleaning jobs in agriculture, construction and automotive sectors, where high water flow is needed to shift dirt and detergent quickly. The upright design makes them highly manoeuvrable and easy to transport. Equipped with quality features such as an automatic pressure relief system and built with efficient pump technology the machine can withstand harsh industrial environments. The dirt blaster nozzle provides even greater cleaning performance for the most difficult cleaning tasks and the sophisticated on-board storage allows for secure and tidy storing.
Flow rate (l/h) 700
Operating pressure (bar/) 120
Max. pressure (bar/) 180
Water feed temperature (°C) 60
enquires@pressureclean.co.uk for more details and price
Nilfisk MH 3C-90 / 670 X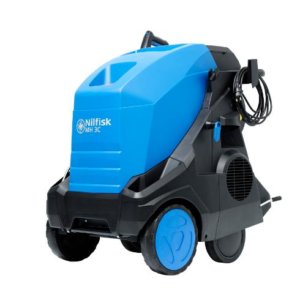 The MH 3C offers high cleaning efficiency and low running costs via optimal cleaning and heating performance. It is the ideal hot water unit for general light everyday cleaning in applications such as automotive, craftsmen and light farming.
The versatile MH 3C combines low running costs, high performance, ease of use, best in class mobility and great cleaning efficiency. The innovative design makes it easy to move over all types of surfaces. The Ergo accessory system contributes to even more comfortable use of the machine and assures durability and reliability.
EcoPower™ boiler with EcoMode function
EcoPower™ boiler >92% efficiency giving reduced fuel costs
Brass pump head
Pressure activated unloader system
Innovative design with 4 big wheels
Easy to transport, can even be pushed/pulled across uneven surfaces
Oil tank and oil sight
Onboard diagnostics function
enquires@pressureclean.co.uk for more details and price
Karcher Handheld Vacuum Cleaner HV 1/1 BP C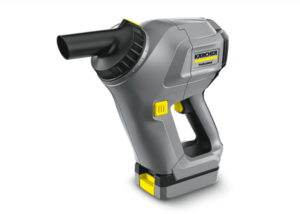 £222.00 inc VAT
The new Professional Battery-Powered Handheld Vacuum Cleaner, combining power with brilliant performance. For use within the construction industry.
Feel the freedom of Kärcher's HV 1/1 Bp cordless, handheld vacuum cleaner. Combining power with brilliant performance this handy device will quickly become a firm favourite when it comes to cleaning, whether it's valeting a vehicle, cleaning an office or tidying up after building maintenance. Compact and durable with no cable to plug in or move around, the HV 1/1 Bp is easy to operate and provides a runtime of up to 35 minutes. The HV 1/1 Bp Cs comes equipped with target market specific accessories for use within the construction industry where mobility and flexibility are required.
enquires@pressureclean.co.uk for more details and price